Wayfinder/Coles stand (15-17 July 2022).
A fantastic event that welcomed over 15,000 visitors.  Thank you to Kerry McAleer, Head of Supply Chain, Bakery, Deli and Seafood at Coles and Wayfinder Ambassadors,  Carly Morton, Carly Cummings, Kriti Tuteja, Sara Bezerra and Vanessa Rudnick for joining me. And also a big thank you to the supply chain team at Coles for so generously sharing your knowledge, and your passion for the supply chain sector. 
Helping to spread awareness and visibility is key to increasing female participation in the sector.
Industry Graduate Program Webinar
National Industry Graduate Online Forum 23 June 2022 hosted by Wayfinder for the National Supply Chain Education Network. Industry supply chain professionals spoke about industry graduate programs, graduate employment opportunities and industry graduates shared their first-hand career insights.
Facilitated by Dr Hermione Parsons
Marion Noakes, Head of Demand & Supply Planning Nestlé
George Pantopolis, Demand Planner Nestlé Purina Pet Care
Sharon Abbott, Graduate Programme Manager Toll Group
Berin Lautenbach, Global Head of Information Security Toll Group
Camille Murphy, Human Resource Analyst and previous Toll graduate
Chris Brewster, Terminal Manager Patricks Terminals
Elizabeth Pinkerton, WILpower Management Cadet Patricks Terminals
Wayfinder proud supporter of the Australian Defence Force
Wayfinder is a stand holder at the Australian Defence Force 24/7 Virtual Transition Seminar Platform, helping to spread the word about the fantastic career opportunities for women in supply chain and logistics roles.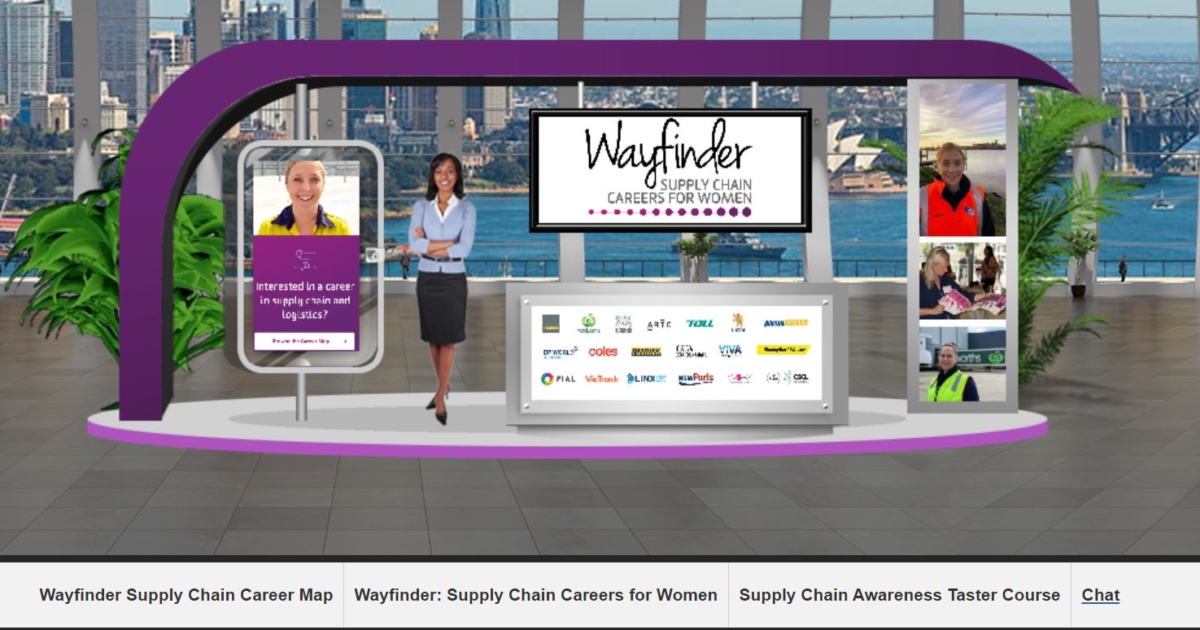 Industry Graduate Program Webinar
Watch Wayfinder's Industry Graduate Program Webinar to hear Coles and Nestlé program leaders describing their programs, the important role they play in preparing graduates for a career in supply chain and the skills and attributes they consider when selecting candidates.  You will also hear from program graduates and a current supply chain student sharing their supply chain experiences.
What Wayfinder is doing to help address recruitment challenges
Dr Roberto Perez-Franco shares his latest research findings during his interview with ImportExportTV.  The discussion explores the ongoing challenges and the impact of recent events on the ability to recruit and retain the workforce required for today's supply chain sector.
Tune in to this insightful interview and hear what Wayfinder is doing to help address supply chain recruitment challenges.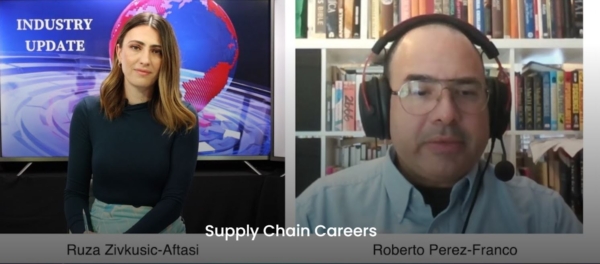 Leading supply chain companies work to breakdown industry stereotypes
Wayfinder's National Forum shared the findings of seminal research into the under-representation of women in the sector. The report conducted by The Centre for Supply Chain and Logistics at Deakin University, was informed by extensive interviews with more than 100 women in the sector, making it the most comprehensive study to date
Access media release
Wayfinder releases Supply Chain Career Map
The interactive, digital supply chain career map showcases over 150 Supply Chain Logistics roles in 18 sectors with each position mapped to experience, qualifications, indicative salary, key responsibilities, generic skills, priority skills, career progression and study options. The tool includes embedded videos which showcase inspirational women working across roles at all levels in the sector.
The Supply Chain Digital Career Map can be accessed via desktop or mobile and is linked to the Federal Government's Jobs Hub. The map was developed utilising findings from extensive sectoral research and was launched in October 2020.
Access Career Map
The Supply Chain Awareness Program delivers face-to-face/online sessions into targeted community organisations, linking unemployed and under-employed women, career changers, career advisers, students, and graduates into new supply chain logistics career opportunities.
Our first Supply Chain Fundamentals Course was held in Melbourne. These sessions continue to be rolled out nationally.
Supply Chain professionals of the future!
Supply Chain Fundamentals Course held in Sydney. Thank you Dress for Success staff and clients. And a big thank you to  the Australian National Maritime Museum for providing us with a wonderful venue.
The next generation of supply chain professionals!
Supply Chain Fundamentals Course participants on tour of the Coca-Cola Amatil manufacturing plant. Thanks to Wayfinder sponsor, Coca-Cola Amatil, for providing this fantastic opportunity to see where the magic happens.
Our first Brisbane program was delivered to Multicultural Australia . Thank you to the staff and clients for your warm welcome!
These luncheons were free to all community members and aimed to increase the number of women in supply chain careers across Australia. They granted the opportunity to meet and hear from talented and dynamic women who shared their career stories and outlined the exciting opportunities available in supply chain and logistics. These events wouldn't be possible without the support of our industry sponsors and partners.
Wayfinder: Supply Chain Careers for Women launched on International Women's Day on 8 March 2018 at The Pier in Geelong. The initiative was officially launched by Professor Hermione Parsons, Director of the Centre of Supply Chain and Logistics at Deakin University, and Deakin University Vice-Chancellor Jane den Hollander AO. The event was attended by community and industry alike, and featured guest speakers from Wayfinder industry sponsors, including:
Kersten Ross – Transport/Logistics Manager, Viva Energy
Laura Hose – Manufacturing Excellence Improvement Coach, Lion
Carolyn Holness – National Training Manager, LINX Cargo Care Group
Danielle Markey – Safety Systems Coordinator, QUBE
Chontelle Kelly  – Supply Chain Graduate, Nestle
Amanda Cech – General Managaer Logistics, Coca-Cola Amatil
The second luncheon for Wayfinder: Supply Chain Careers for Women was held at ZINC, Melbourne. It featured a range of guest speakers including:
Andrea Ryan – Executive General Manager Human Resources, Toll Group
Belinda Flynn – General Manager, Health, Safety and Environment, Qube Holdings Limited Co-Founder, Wayfinder
Chontelle Kelly – Supply Chain Graduate, Nestle
Frances Simpson – Marketing & Communications Officers, Victoria International Container Terminal
Alex Arvantis – Head of Transformation, Coca-Cola Amatil
Katie Fortunato – Labour Manager, DP World
Stacey Meinis – Operations Manager, Woolworths
Jackie Lawrence – Manager, Commercial and Contractual Engagement, Australian Rail Track Corporation
Wayfinder: Supply Chain Careers for Women held a luncheon at Rydges South Bank in Brisbane. The event featured guest speakers including:
Lara Azavedo – Manufacturing Manager, Coca-Cola Amatil
Britt Gibson – Stevedore, DP World Australia
Sandra Corowa – State Transport Manager (QLD), Woolworths
Deb Boneham – Configuration Manager, ARTC
Irene Bell – Brewery Director at XXXX Brisbane, LION
Jayn Sharrock – Operations Manager, Patrick Fisherman Islands Terminal
The fourth of our Wayfinder: Supply Chain Careers for Women events was held at Newcastle Harbourview Function Centre. Industry guest speakers included:
Anne Modderno – Manufacturing Corridor Works, Australian Rail Track Corporation
Mirjana Prica – Managing Director, Food Innovation Australia Limited
Shauna Straney – Health, Safety and Environment Manager Logistics, Linx Cargo Care Group
Tracey Fulton – National Transport Manager, Nestle
Natalie Leard – Business Analyst, Woolworths Group Supply Chain, Wyong Regional Distribution Centre 
Wayfinder: Supply Chain Careers for Women came to the Australian National Maritime Museum in Sydney. Guest speakers included:
Insa Errey – Improvement Engineer Tooheys, Lion 
Lisa Nguyen – Sales and Distribution Territory Planner, Coca-Cola Amatil
Rita Antranik – Operations Manager, Qube Ports
Jing Jin – Group Manager, Financial Planning and Analysis, Linx Cargo Care Group 
Mirjana Prica – Managing Director, Food Innovation Australia Limited
Lauren LaChapelle – Global Head of Information, Communication and Technology, Toll Group
Perth Arena hosted our Wayfinder: Supply Chain Careers for Women event. Our panel of talented speakers included:
Emma Battelley – Pilbara Health, Safety and Environment Quality Assurance Manager, Qube Ports and Bulk
Dr Sarah Jones – General Manager Road Transport Safety and Compliance, Toll Group
Kareena May – Managing Director and Principal Town Planner, SITE Planning and Design 
Criseida Osorio – Process and Compliance Lead, Coca-Cola Amatil
The final Wayfinder: Supply Chain Careers for Women event was held at Sanctuary, Adelaide Zoo. Featured speakers included:
Marion Noakes – Demand and Supply Manager, Supply Chain – Dairy, Foods and NZ, Nestle
Fiona Rawson – Network Controller, Australian Rail Track Corporation 
Amanda Cech – General Manager Logistics, Coca-Cola Amatil